A collection of articles relevant to recycling, the environment and natural fabrics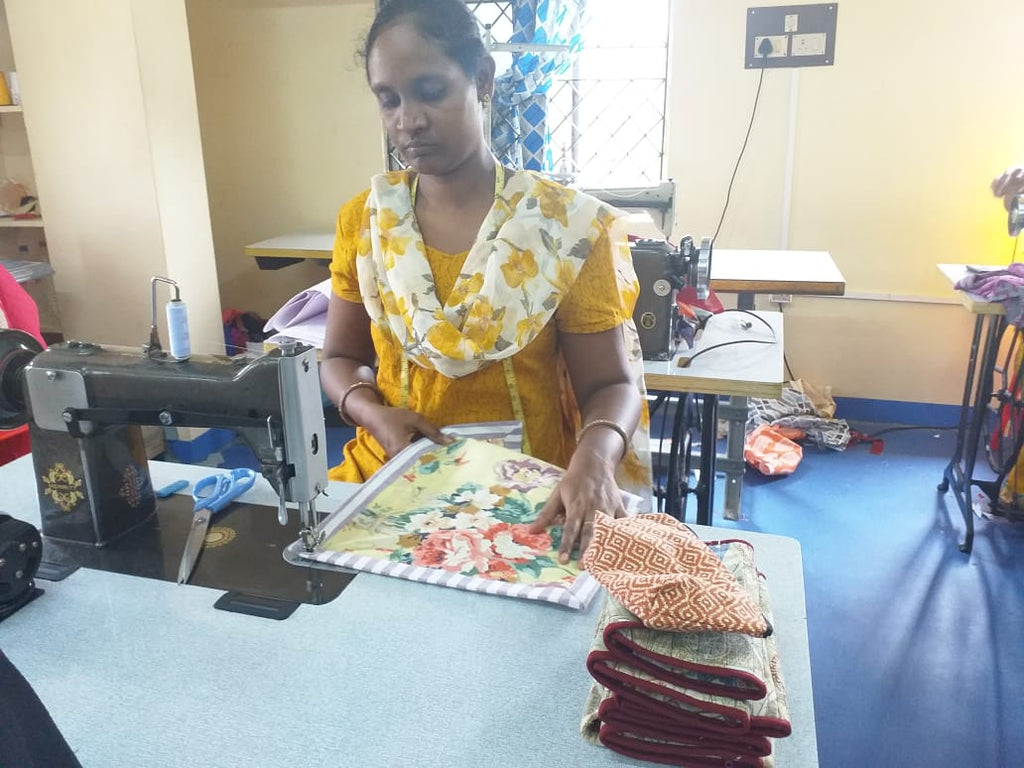 Sunita started making Nyrvaana products in the summer of 2018. In just a little over a year, she has become an expert at making tablemats (yes, including those tricky corners!), can add zippers to bags in a matter of minutes and now has started teaching other women how to make bags!  In spite of having to care for her two young children and her husband who needs dialysis twice a week, Sunita always completes the work on time and with great quality! There were days where she delivered finished products on the way to visit her husband who was in...
---
Geetha is a second year engineering student majoring in Mechanical Engineering. Geetha is motivated, driven and nothing will stop her from becoming a successful professional!  Which is why Nyrvaana is supporting her education by helping her with the tuition fees.  The combined income of her parents is less than the annual tuition, her family does not own a computer which is needed by every student and she is a first generation engineering student ... but none of these challenges stopped Geetha from being accepted to a good engineering school and securing top grades!  Geetha stays back in college after hours,...
---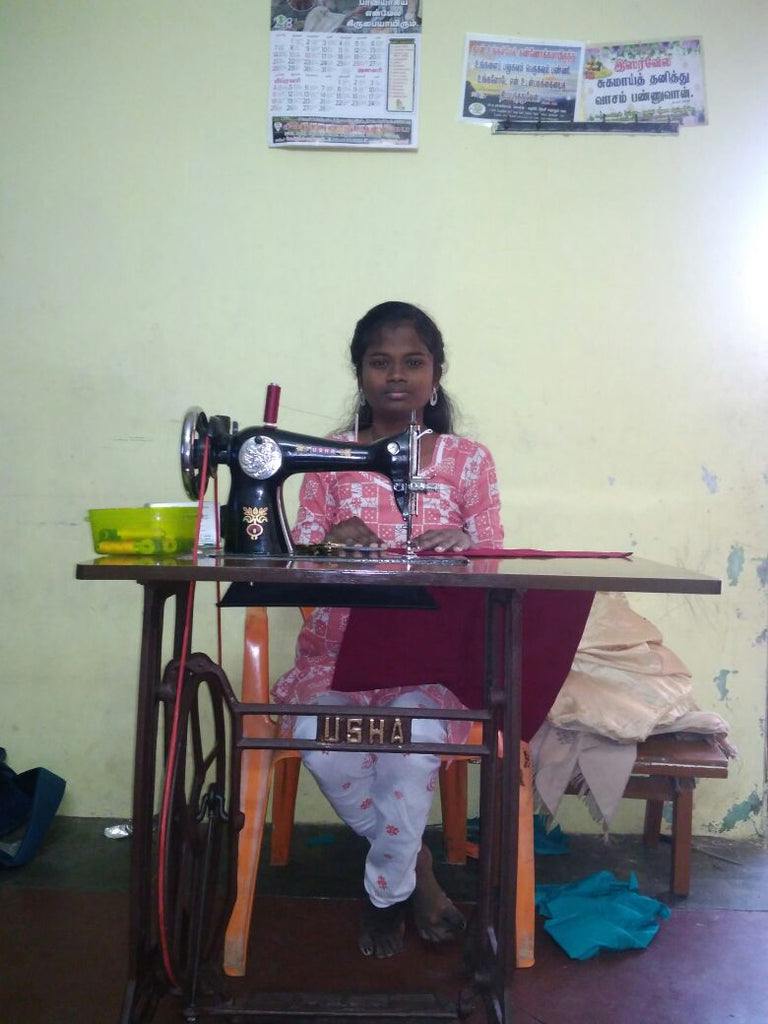 When we first heard about Srija, the daughter of a woman who wants nothing more than a college education for her daughter, we were all impressed by the mother! The fact that she gave so much importance to her daughter's education made us really happy. And then we learned more about the daughter Srija. A first year undergraduate student, Srija is well aware of how hard her mother works just to send her to college.  Unlike other girls her age who enjoy their free time after college, Srija learned to sew so she could earn some money to pay off...
---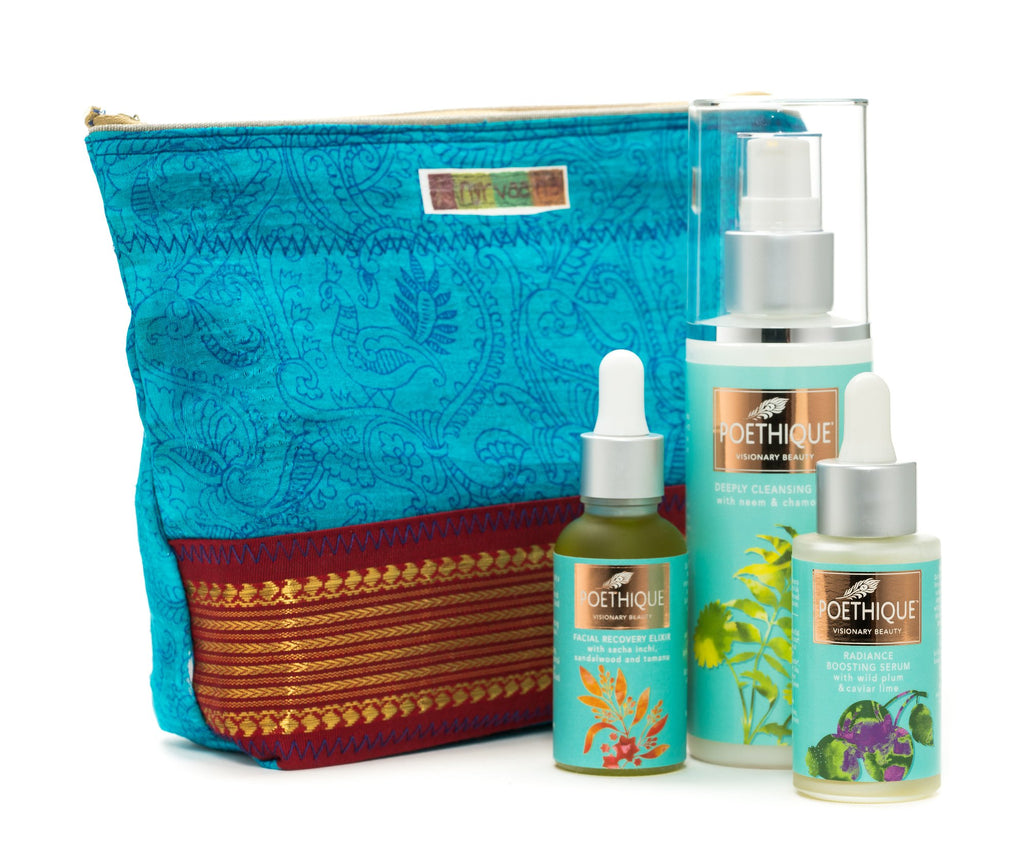 A sustainable partnership is one where both partners believe in the same things.  Poethique, a young skincare start-up, believes in the power of nature, loves the environment and sources all natural ingredients in a responsible and sustainable way. It is no surprise that Poethique picked Nyrvaana cosmetic bags to give as gifts - our upcycled cosmetic bags are made from old, hand woven silk sarees and are finished with our signature borders!  The fabric is now getting another life in the sun! Thank you Poethique! Check out their holiday season special: https://www.poethique.com/products/balance-your-skin-4pc-gift-set
---
A weavers tale is told through the fabric they weave. Every thread holds a story, every border a secret and every flower shows the pride of workmanship.  And the best part is that the story is forever - the beauty of woven fabric can be enjoyed again and again!  After visiting the weaver's village in Uppada in South India, I know I will never throw away anything made of hand woven fabric. I went inside the tiny houses of the weavers and ran my hand over their old, wooden looms that took up the entire front room. The man of...